BasePac 8 is a modular software for the embroidery industry. The single modules can be individually chosen, so that you can build a system fitting your requirements.
Punching for Beginners
The automatic punch function ACE helps beginners to quickly produce a ready design from a picture or vector file. Advanced users will quickly start enjoying the ACE as great help, which can be individually optimized.
With Punch Options are available in two versions. Punch 1 offers all possibilities to produce classic designs. Auto trace and usage from drawing data simplify the submission of data. A new way of submitting data for satin stitches helps to fill out complex structures, without you having to make many thoughts in which order the stitches should follow up. Punch 2 is the extension – a highly professional punch system. Complex stencil and macro libraries, wavy steps and variable density provide unlimited space for creativity.
Monogram
The monogram option offers classical lettering and curves or circles. Besides these function, BasePac also offers the envelope function for changing lettering. The Font Manager offers the possibility to adapt letters to the requirements of the embroiderer.
Editor
The editor helps to control and manipulate ready designs, and is therefore very good for embroiderers. Changing of design function, stitches or whole parts of the design is possible as well as the connection of whole motives or parts of motives with changes of density. Also the editing of Schiffli Design is possible.
Design Management
The data base offers you the possibility to print designs with all information, such as number of stitches, thread usage and needle – colors combination. From the design management, all designs can be send via e-mail or directly to any embroidery machine.
BasePac distinguishes between three lines.
BasePac classic, BasePac SE and BasePac ACE classic line.
BasePac 8 is the basic package, extendable with options.
BasePac 8 SE and BasePac 8 ACE are complete packages, made for beginners, which do not only have the base package, but also an optimized selection of options, coordinated for different needs. And also the complete packages are extendable to the different capabilities of the options of the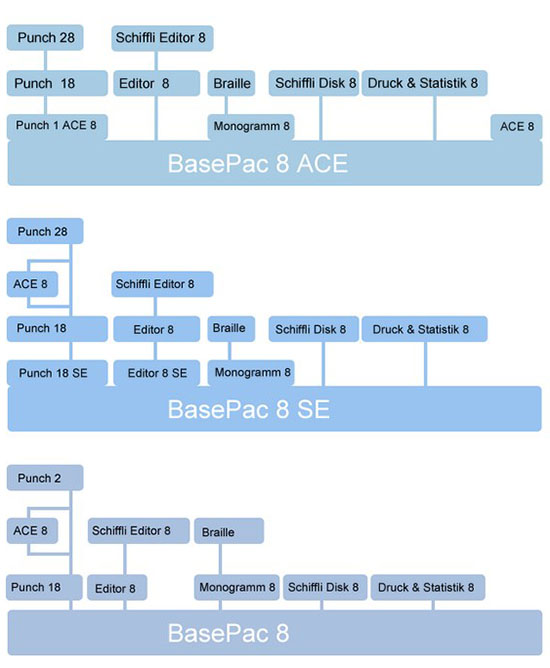 BasePac Options
BasePac 8 contains the design management and the basic methods to organize and process embroidery designs:
Design management with text and pictogram directory
Design directory organized in folders
Backup function for selected backup
Simple design printout
Read and write all available Multi-Head diskette formats GiS Data, ZSK Stichdaten, ZSK NC , ZSK DOS, ZSK Transport Code, Tajima (DST, DSZ, DSB), Toyota, Barudan FDR III / FMC / FDR-DOS, Fortron, Happy-Eltac, Pfaff, Melco Expanded, Mitsubishi, Juki B, C, D
Export / e-Mail and Import of different Multi-Head formats: GiS Data, ZSK Transport Code, ZSK Stitch data (DSZ), Tajima (DST), Barudan (DSB, FDR), Pfaff, Melco Expanded, Happy-Eltac, Toyota, Juki C
Design head, calculate statistics
Zoom, scrolling, ruler
Design view with TrueView
Open multiple designs and multiple windows of one design
remove, insert, move single stitches
Insert and delete machine functions
go through stitches in adjustable steps
rotate design / change size
Single line lettering with 2 font types, input directly to the design view
Load frame from library and combine to design
embroider frame from library as fill or border