LASER CUTTING AND ENGRAVING MACHINE WITH GALVANOMETRIC HEAD
· For cutting and engraving fabrics and different materials
· To cut out the application before embroydering them
· Fasteners for embroidery machine frames
· Perfect for those who want to start with a fixed
· galvanometric laser system set over a table and also foresee future development. This system can be transformed into a Laser bridge system to be set over embroidery machines, GMI strass systems, or other customized systems.

LASER SOURCE:
· CO sealed laser source, nominal output power 50 W
· Air cooling
GALVANOMETRIC LASER HEAD
· The laser beam is directed, at high speed and great precision, by special mirrors driven by electromagnetic motors
· Working field 300x300 mm.
· Focusing of the cutting surface via software
BELL
· Bell protecting from laser beams
WORKING TABLE
· Table with grind on the top, size 600X600 mm
OPTIONAL
· Fasteners to embroidery machine frames
· Whenever you want GMI MOSAICO can be transformed into a Laser Bridge system simply installing a bridge and the motion devi ces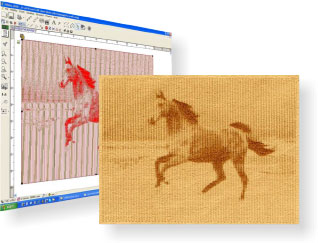 STILISTA 2000 LASER DRIVER SOFTWARE
· User friendly and complete interface
· Cutting speed, number of passages, fabric thickness, multiple alternated cut sto get the fabric cold
· Automatic object contour enlargement
· Conversion of embroidery functions into laser cut or engraving functions
· Import images of different formats, including vectorial images with autotrace.