MAXIMUM ADAPTABILITY
It can be installed without any physical contact with machines
More than one machine can be served by the same laser
High precision structure on measure to better manage the space available
POWERFUL AND RELIABLE
LASER SOURCE: CO sealed, nominal power 100W (GTD 60x60) or 200W (double source 100W - GTD 120x60)
LASER GALVO-HEAD
The laser beam is directed, at high speed and great precision, by special mirrors driven by electromagnetic motors
BRUSHLESS ENGINES for laser column movements
WATER COOLING SYSTEM
Temperature variations don't affect the laser output power
Better control of cutting positions
SAFETY
Bell protecting from laser beams
Radar devices for detecting the presence of persons and/or things inside the work area during machine movements
Different solutions for rear protection according to the type of installation
Adding cushions with sensors for immediate stop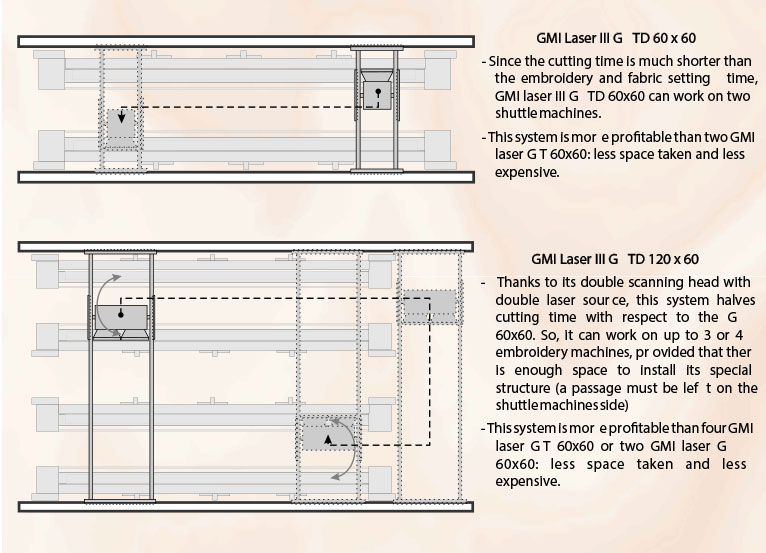 NEW VERSION:THREE-AXIS (GALVONOMETRIC LASER HEAD)
This new technology allows to get better performances:
LARGE WORKING AREA 600 X 600 mm (GTD 60x60)
or 1200 X 600 mm (GTD 120x60) with go+return cut
Fewer laser column (X) and embroidery loom (Y) movements: ie. in "all over" designs.
Fewer junctions
VERY SMALL LASER SPOT
Higher speed with same laser power source
Less burning while cutting the same fabric
Better definition of corners and small details
FOCUSING BY DYNAMIC BEAM EXPANDER
Higher cut control (you can cut the fabric without boring the underneath fabric)
More linear cuts
"STILISTA 2000 LASER DRIVER" CONTROL SOFTWARE
GMI invented the bridge laser cut for embroidery machines and is currently the firm having the greatest number of machines installed in Italy and throughout the world. This solid experience, applied to software development, guarantees the high quality of Stilista 2000 Laser Driver, which is undoubtedly the most exhaustive and easy to use control software.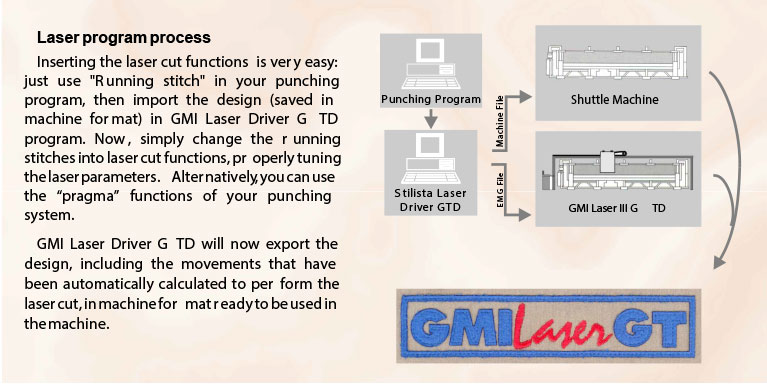 Option: GMI Roller
Unroller -Roller to work with piece-goods.
It must be positioned under the GMI Laser GTD, near the embroidery machine.
The GMI Laser GTD will automatically shift on the Roller, any time the embroidery machine is stitching. This allows an optimized output and avoids any waste of time of the Laser.
It engraves and cuts out appliques, while the embroidery machine keeps on working.
The fabric advance is automatic.